In order to bring forward effective planning and implementation of the Convention, as well as to achieve the Strategic Objectives (SOs) at the global and national level, the Department of Agriculture-Bureau of Soils and Water Management (DA-BSWM) spearheaded the United Nations Convention to Combat Desertification (UNCCD) Reporting Process Consultation Workshop. The activity was conducted today, 21 February 2023, at the DA-BSWM Lopez Convention Hall.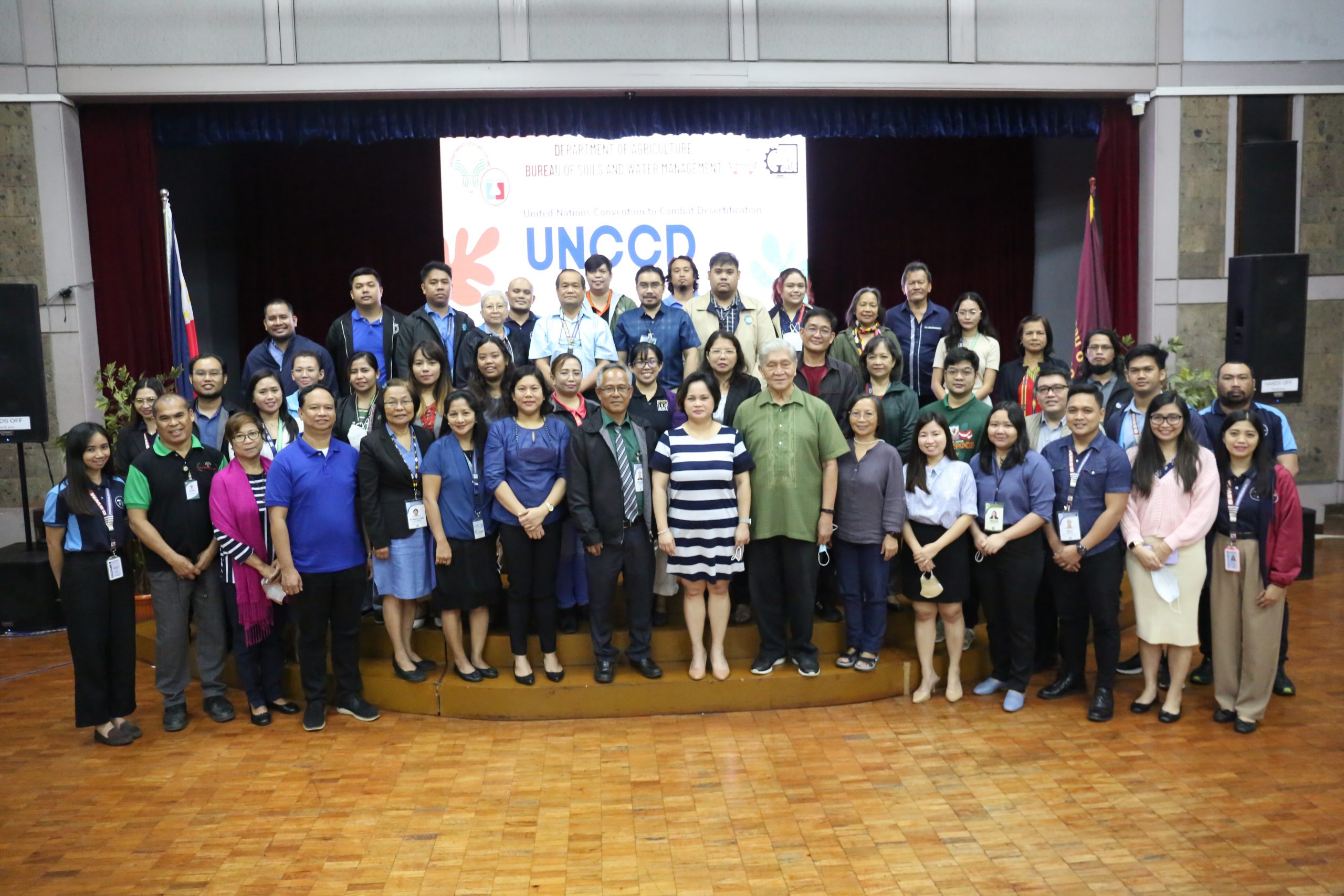 DA-BSWM Assistant Director Denise A. Solano welcomed the participants from the various National Government Agencies and other organizations through her message which focused on recognizing the important role of healthy lands on food production, community livelihood and other ecosystem services. She began her message by appreciating the presence and participation of the attendees in the consultation workshop. Assistant Director Solano then emphasized that part of our commitment to the UNCCD is the submission of a country report through the DA-BSWM.
Following the Welcome Message from Assistant Director Solano was a Message from the President of Philippine Rural Reconstruction Movement (PRRM), Mr. Edicio G. Dela Torre. He mentioned, among others, the value of providing awareness on having a healthy soil. In addition to this, he also mentioned that the PRRM sees the importance of the conduct of consultations, reporting, and the documentation of good practices.
Further, to provide the attendees with a more detailed background of the activity, DA-BSWM Soil Conservation and Management Division (SCMD) Chief Engr. Eduardo V. Alberto presented the Overview of UNCCD Process.
Going into the main part of the event, various topics were presented to cover the Five Strategic Objectives. Mr. Baldwin Pine of the DA-BSWM Geomatics and Soil Information Technology Division (GSITD) covered the topic on Land Degradation Assessment Result and UNCCD National Report SO-1 (including the 17 negative trends). Engr. Evangeline F. Dacumos of the SCMD presented the UNCCD National Report (SO2 & SO3). And lastly, Engr. Jemar G. Raquid, also from SCMD discussed the UNCCD National Report (SO4 and SO5).
Being the National Focal Point, and as part of the country's commitment to the UNCCD, the DA-BSWM organized the conduct of the Consultation Workshop for the efficient preparation and submission of the National Report to the Convention.