BSWM Today
The Bureau of Soils and Water Management (BSWM) is the sole national soil resource agency in the Philippines. It is under the Department of Agriculture. Initially established on June 5, 1951 as the Bureau of Soil Conservation, the Bureau through the decades has expanded its range of services besides the soil conservation and sustainable agricultural land management advocacy to include soil resources assessment and mapping, agricultural water resources management, analytical services, and soil and water resources research and development.
BSWM has a proud history of providing technical assistance to Filipino farmers through appropriate soil resources management to maintain soil productivity and farm profitability and consequently boost the rural economy, enhance global competitiveness of local produce, and improve the quality of our soil and water.
To be able to accomplish its mandate, mission, and vision – BSWM has several banner programs in support of the various National Food Production Programs of the Department of Agriculture. These banner programs range from soil health analysis and mapping, promotion of sustainable land management practices, agricultural water availability and security, agricultural land policies to secure our production base, and research and development to address soil issues and concerns relating to productivity and fertility decline, soil and water pollution, land degradation as among the major soil-related challenges facing the agricultural sector today.
While the Local Government Code empowers the local governments to provide the agricultural extension services to individual farmers, BSWM extends its range of services also to farmer groups enabling them to avail of technical assistance on soil and water-related agricultural production constraints. Dialogues and consultation meetings are conducted with the local government's coordination to be able to raise consciousness as well as address such soil and water-related issues and concerns that affect farm productivity and profitability.
The BSWM Customer Center shall direct any technical assistance requested to the concerned technical division providing a one-stop-shop service to the public and minimizing red tape.  For any issues and concerns, please call +63(2) 8273 2474 loc. 3202 or email to customers.center@bswm.da.gov.ph.
History
On June 5, 1951, the Bureau of Soil Conservation was officially organized by virtue of Republic Act No. 622 with Dr. Marcos M. Alicante as the first Director until 1960. The following former directors served, namely:
Mr. Ricardo T. Marfori (1960 – 1965)
Mr. Atanacio A. Simon (1966 – 1970)
Mr. Juan A. Mariano (1971 – 1976)
Mr. Godofredo N. Alcasid, Jr. (1976 – 1996)
Dr. Rogelio N. Concepcion (1996 – 2007)
Dr. Silvino Q. Tejada (2007 – 2017)
OIC-Director Angel C. Enriquez, CESO III (February 2017 – November 17, 2019)
OIC-Director Sonia M. Salguero (November 18, 2019 – June 13, 2021)
Engr. Pablo M. Montalla (June 14, 2021 – June 2022)
Since September 2022 the BSWM is headed by Director Dr. Gina P. Nilo.
Realizing the importance of soil resources to all generations of Filipinos, the Government Survey and Reorganization Commission recommended the renaming of the Bureau of Soil Conservation to Bureau of Soils. It was formally reorganized and renamed on January 16, 1957 by virtue of Republic Act. No. 997.
With the issuance of the Executive Order No. 116 by President Corazon Aquino on June 10, 1987, the Bureau of Soils was renamed to Bureau of Soils and Water Management to include management of water resources for agriculture in the country.
The Rationalization Plan of BSWM under EO 366, approved in 2013, further strengthened and streamlined its functions resulting to a simplified organization with seven (7) technical divisions and three (3) research and development centers.
Organizational Chart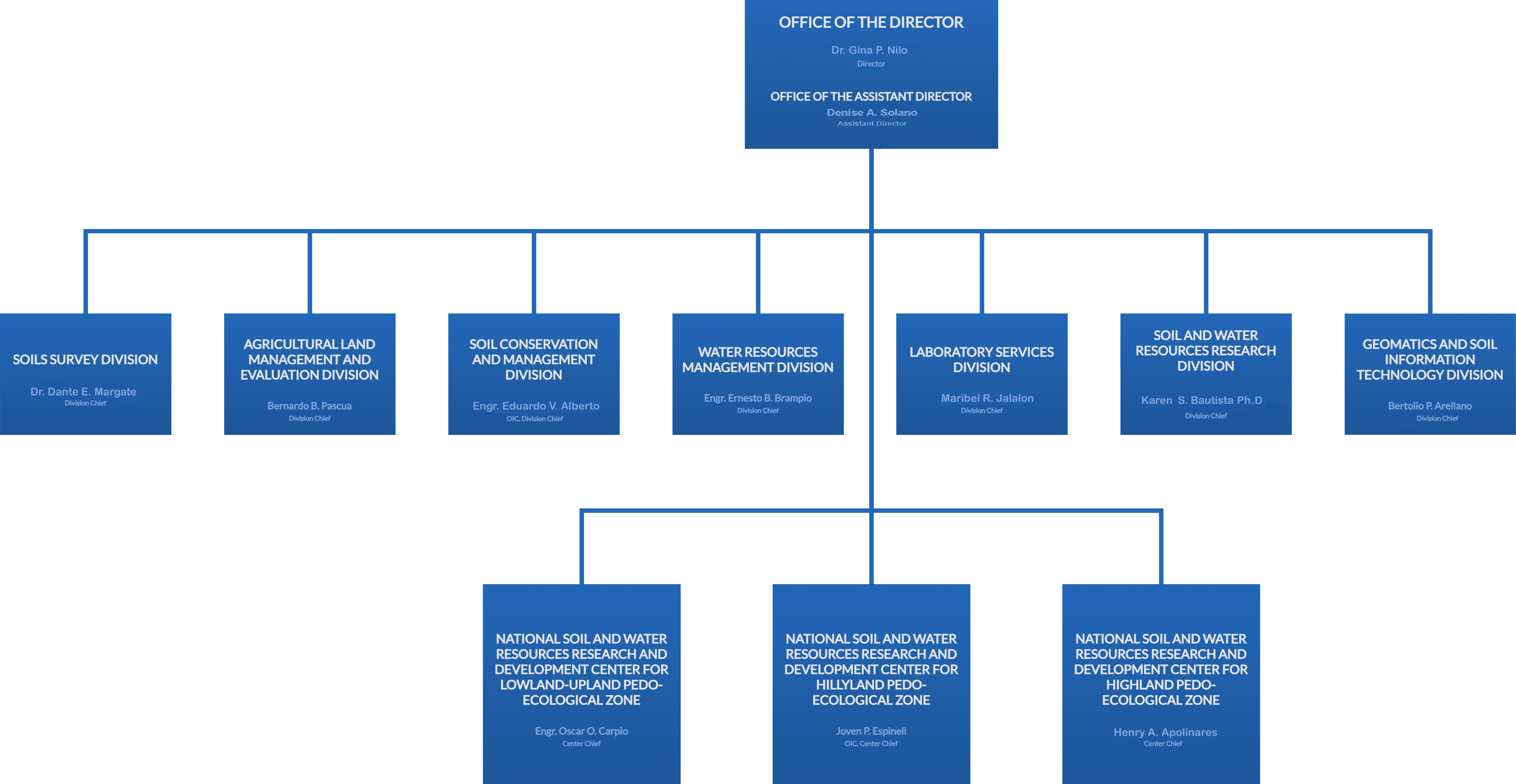 Our Mission
To establish a technology and policy environment that will ensure the attainment of vibrant rural areas characterized by a sustainable agriculture and fishery productivity and institutionalize the judicious use of the base soil and water resources of the country.
Our Vision
Sustainable management of soil and water resources for agricultural production systems that are in harmony with nature where food is health-safe and food resource production is economically viable and socially acceptable.
Our Mandate
Formulate measures and guidelines for the effective utilization of soil and water resources as vital agricultural resources to attain food security and safety, environmental stability through soil and water resources-based adaptation and mitigation measures that address multi-environmental concerns on land degradation, climate change, and agricultural biodiversity conservation.
Core Functions
Provide continuing assessment of the sustainability of the country's agricultural production systems, particularly soils and water as vital agricultural resources
Sustain Philippine agriculture through the promotion of sustainable agricultural land management practices in the croplands, as well as in the marginal uplands, hillylands, and highlands
Formulate, through a participatory process, a national research and development agenda on sustainable agricultural land management; undertake upstream and midstream researches including location-specific and targeted researches in the generation of public goods and services in critical areas outside of comparative advantage of various specialized research institutes of the Department and the country's SUCs; provide leadership in the development and operation of a network of institutions on soil and water resources research and development.
Strengthen the convergence efforts of concerned agencies (DAR, DENR and DA) on sustainable rural development to include climate change, land degradation and bio-diversity concerns
Render assistance and advice on policy matters related to the mitigation of the effects of extreme climate events on agricultural lands; design and develop rainwater harvesting (small water impounding) and other water-related small-scale infrastructures; and formulate recommendations on waste water use and reuse
Engage in rain making projects for agricultural areas and watersheds to address the problems of prolonged droughts and minimize their effects to standing agricultural crops
Recommend appropriate soil and water management policies to address issues on food security, environment, biodiversity, and climate change, including vulnerability/disaster risk assessment relative to agriculture
Provide technical support services through the conduct of laboratory analysis on soils, water, and plant tissues; provide fertilization guides and recommendations; provide soil inoculants, compost fungus activators (CFA) and other microbial agents
Core Values
The BSWM workforce shares the core value of
Love of God and Country
Spirituality
Manifesting belief, love and faith for a higher Being.
Patriotism
Manifesting love of country and willingness to sacrifice for one's country and fellow countrymen.
Integrity
Consistently adhering to strong moral and ethical principles, whether alone or in public.
Excellence
Discharges one's duty with the highest degree of professionalism and superior work standard.