The Department of Agriculture – Bureau of Soils and Water Management (DA-BSWM) made a significant contribution to the recent Farmers' Field Day and Culmination Ceremony of DA Best Farms and Farmers – Season 2, which featured a Provincial Hybrid Rice Cluster Farm (PHRCF) and an Adaptive Balance Fertilization Strategy (ABFS) Technology Derby in Region 8. The event took place from October 9 to 11, 2023, in Brgy. Villa Consuelo, Naval, Biliran.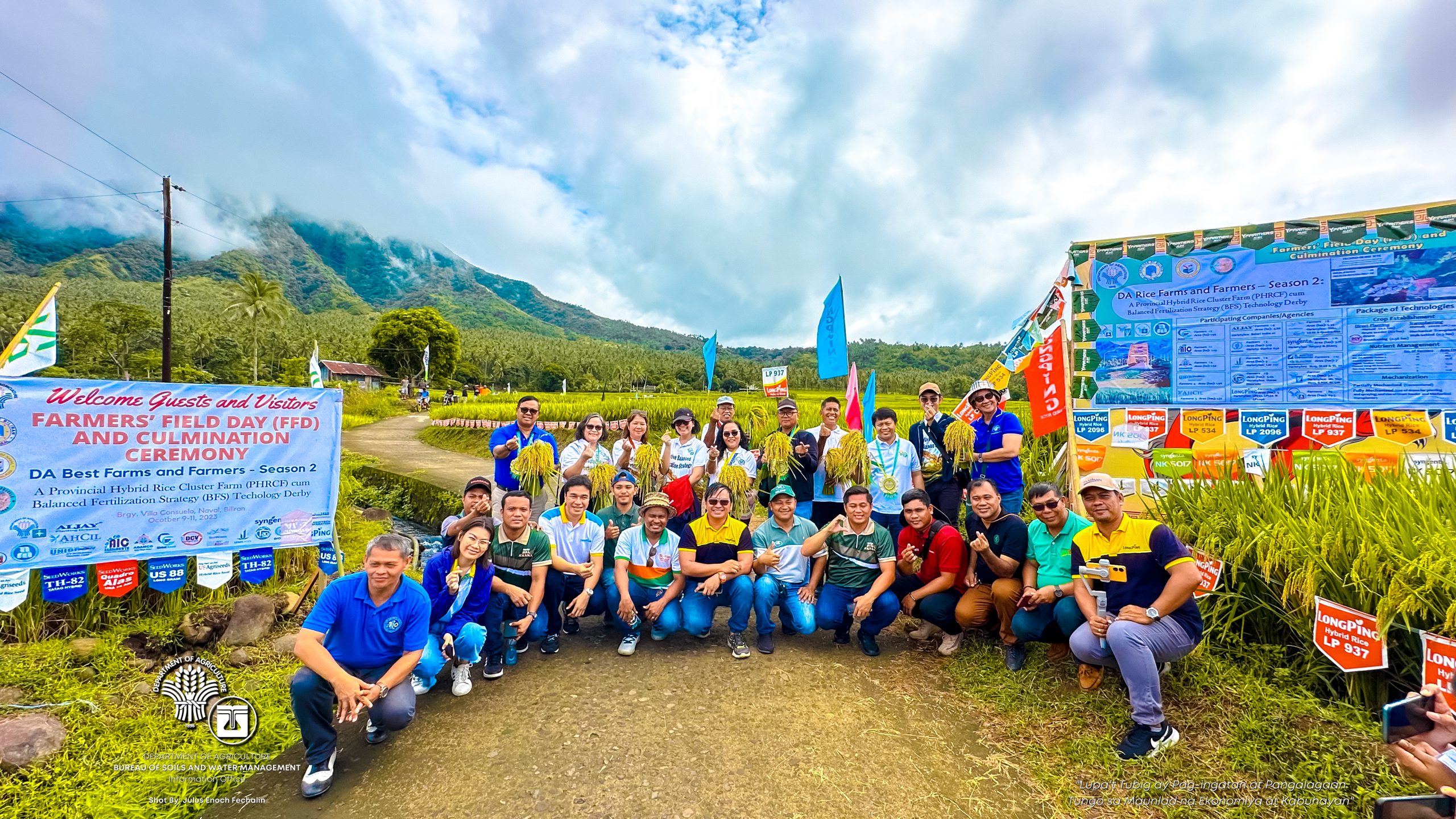 A total of 85 farmer-beneficiaries participated in the ABFS technology demonstrations, receiving seeds and fertilizer interventions from the DA-BSWM in collaboration with the Department of Agriculture – Regional Field Office No. 8 (DA-RFO8). The ABFS Technology aimed to enhance the agricultural practices of farmers that will not just lessen the farm inputs expenses of farmers but also improve the soil structure.
During the first and second days of the event, the DA-BSWM Team, led by Region 8 Focal Person and Laboratory Services Division (LSD) Chief Maribel R. Jalalon, along with Senior Agriculturist Vince Albert Ching, Agriculturist Wilfredo De Mesa, GSITD Remote Sensing Technologist Armando B. Arcamo, Science Research Analyst Jeffrey Bulawit, and Project Development Officer Elijah Canlas, shared insights into the importance of Adaptive Balanced Fertilization. They explained various combinations of the ABFS Strategy recommendations, allowing farmers to choose what aligns with their budget and yield goals. Additionally, field visits were organized to showcase the success of ABFS Combos 3 and 4 on various sites.
The culmination ceremony on the last day was graced by DA-BSWM Director Dr. Gina Parde-Nilo, who delivered a message emphasizing the significance of collaboration between the national agency and the Local Government Unit to ensure the successful implementation of projects that benefit farmers. She highlighted the importance of the Adaptive Balanced Fertilization Strategy in achieving healthy soil and higher yields, contributing to rice sufficiency in the Province of Biliran.
The event was attended by various dignitaries, including DA-RFO8 Regional Executive and Technical Directors, Billiran Provincial Agriculturist, Municipal Agriculturists from different municipalities of Biliran, DA-RFO Rice Fiscal Coordinators, representatives from Local Government Units, and leaders and members of Farmer Associations. It was a truly collaborative effort to support and empower farmers in the region.
#DA #BSWM #DABSWMNSHP_ABFS #DABSWMABFS #DABSWMBalancedFertilizationStrategy #DABSWMNSHPABFS #DABSWMNatlSoilHealthProg