The Department of Agriculture – Bureau of Soils and Water Management (DA-BSWM) conducted a consultation meeting on October 12, 2023, at Brgy. Villa Consuelo, Naval, Biliran, to engage Adaptive Balanced Fertilization Strategy (ABFS) farmer-beneficiaries in planning for the upcoming dry-season or 2nd cropping.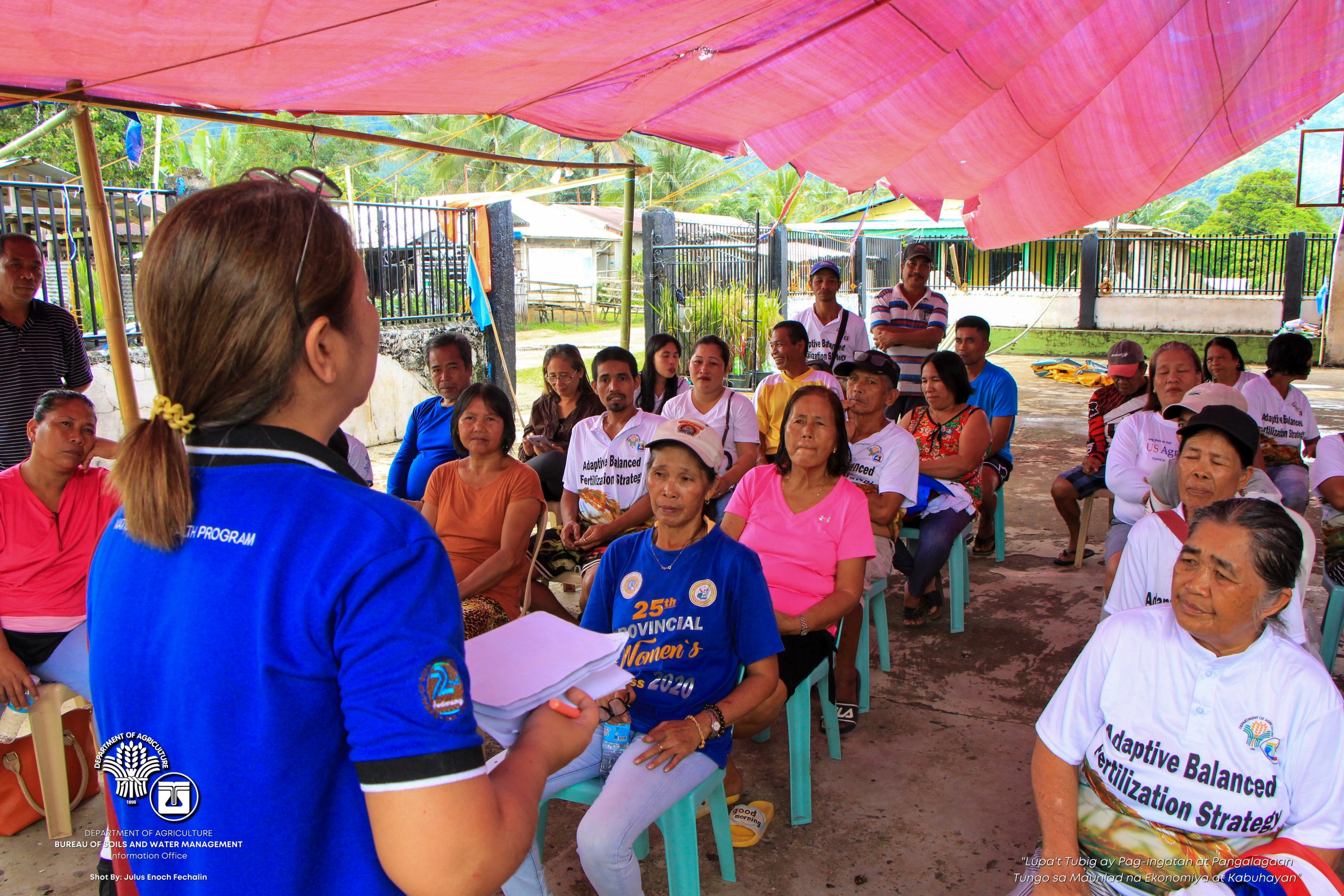 The event was initiated by the ABFS Region 8 Team, led by Focal Person and Laboratory Services Division (LSD) Chief Maribel R. Jalalon, along with Senior Agriculturist Vince Albert Ching, Agriculturist Wilfredo De Mesa, GSITD Remote Sensing Technologist Armando B. Arcamo, Science Research Analyst Jeffrey Bulawit, and Project Development Officer Elijah Canlas.
During the consultation meeting, Chief Jalalon guided the attendees through the data-gathering procedures that will bolster the implementation of the ABFS. She underscored the importance of adhering to the technology's best practices and highlighted the significance of a collaborative approach between the BSWM and the farmer-beneficiaries.
The Adaptive Balanced Fertilization Strategy (ABFS) is a flagship program under the National Soil Health Program (NSHP) of the DA-BSWM. It is designed to reduce farm input costs by promoting the balanced use of organic and inorganic fertilizers, which in turn aids in restoring essential nutrients and soil health. The ABFS is a vital component in advancing sustainable and efficient farming practices that benefit the environment and enhance crop yields.
The consultation meeting served as a platform for farmer-beneficiaries to actively engage with the ABFS Team, share their insights, and collectively prepare for the upcoming dry-season cropping. The collaboration between the DA-BSWM and beneficiaries is a significant step towards achieving sustainable and cost-effective farming practices in the region.
#DA #BSWM #DABSWMNSHP_ABFS #DABSWMABFS #DABSWMBalancedFertilizationStrategy #DABSWMNSHPABFS #DABSWMNatlSoilHealthProg