The DA-Bureau of Soils and Water Management (DA-BSWM) held a significant Technical Inception Briefing in Sta. Barbara, Pangasinan, on June 14, 2023. The event marked the beginning of the process of updating the thematic maps for Soil Reference Sites (SRS) and Soil Monitoring Sites (SMS), paving the way for implementing the National Soil Health Program in Pangasinan Province.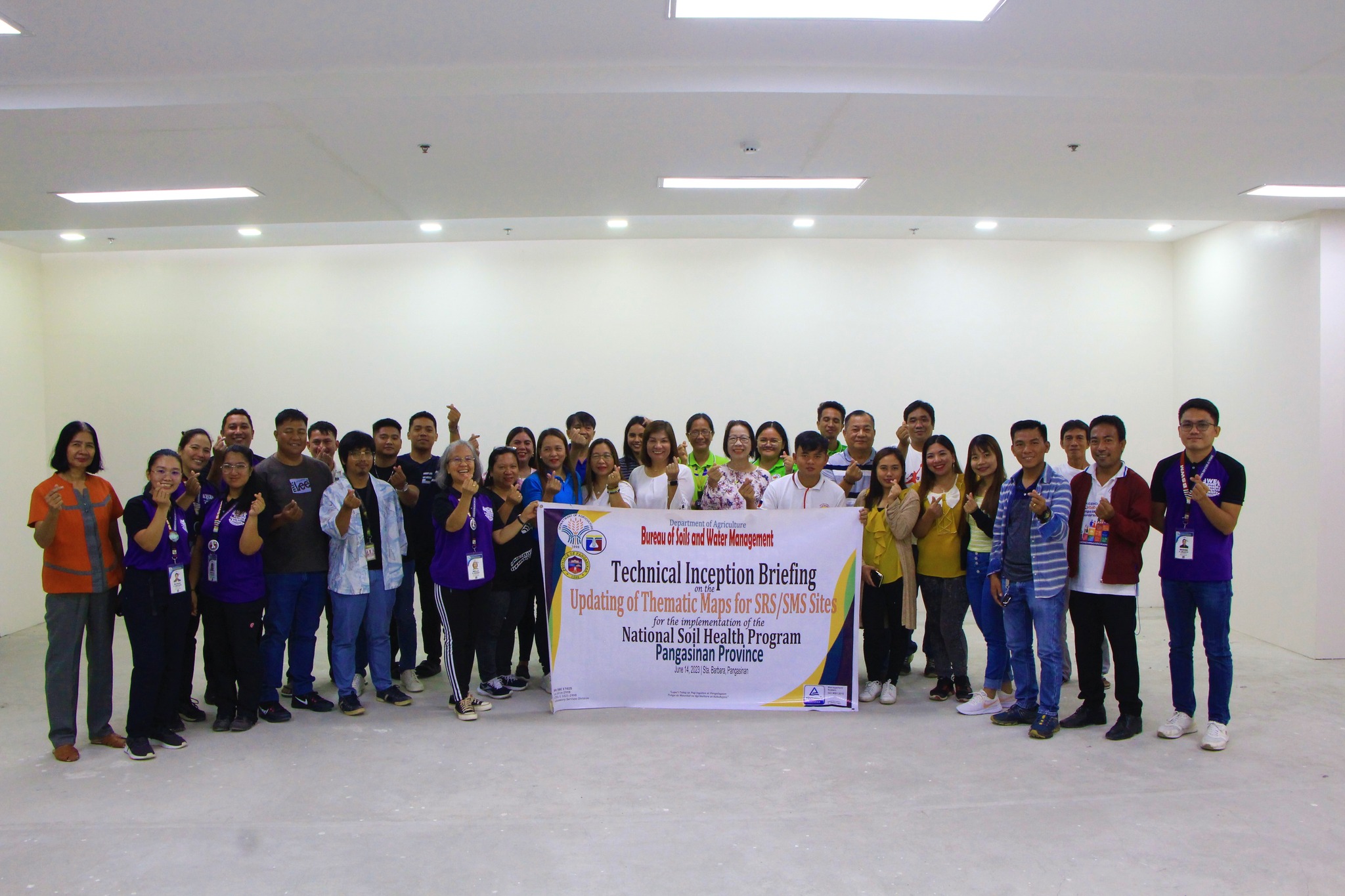 The briefing brought together key stakeholders, including representatives from the DA-BSWM through the Soil Survey Division (SSD) and Agricultural Land Management and Evaluation Division (ALMED), Pangasinan Provincial Agriculturist, All Municipal Agriculturists of Pangasinan, and community leaders. This collaborative effort aimed to enhance soil monitoring and management practices in the province, ensuring the sustainable development of agriculture and the soil's overall health.
The National Soil Health Program (NSHP), spearheaded by the BSWM, focuses on promoting soil conservation, soil fertility improvement, and sustainable land use practices. By updating the thematic maps for SRS and SMS, accurate and up-to-date information will be available to guide decision-making processes related to soil health and management in Pangasinan Province.
During the Technical Inception Briefing, Senior Agriculturist and Project Focal Ms. Bella H. Noceda shared valuable insights on the importance of the National Soil Health Program and the significance of accurate mapping for effective soil monitoring, especially in adapting to the digital world. Furthermore, BSWM-SSD Agriculturist Mr. Ragine A. Galzote discussed the work plan for the following days, including the auger boring, pit digging, survey methods, and logistic arrangements. BSWM-ALMED Agriculturist Mr. Joovanni A. Deliman discussed ground truthing and agro-socio-economic surveys to ensure the successful implementation of the National Soil Health Program. They also emphasized the need for continuous collaboration between the BSWM, local government units, and the agricultural sector to achieve long-term soil health goals.
The Technical Inception Briefing concluded on a positive note, with a renewed commitment from all participants to support the ongoing efforts towards sustainable soil management. Updating thematic maps for Soil Reference Sites and Soil Monitoring Sites will commence in the following weeks, under the guidance of the DA-BSWM.