The Department of Agriculture-Bureau of Soils and Water Management (DA-BSWM) was represented by Dr. Karen S. Bautista to the Workshop on "Developing Low Carbon Farming for Smallholders in the Asia-Pacific Region: Mitigation Potential and Challenges," being one of the 17 Distinguished Speakers across 10 Countries. The Workshop was conducted on October 17-19, 2023 at the GIS Taichung Xinwuri Convention Center. DOST-PCAARRD endorsed her participation in the Workshop to the Food and Fertilizer Technology Center (FFTC).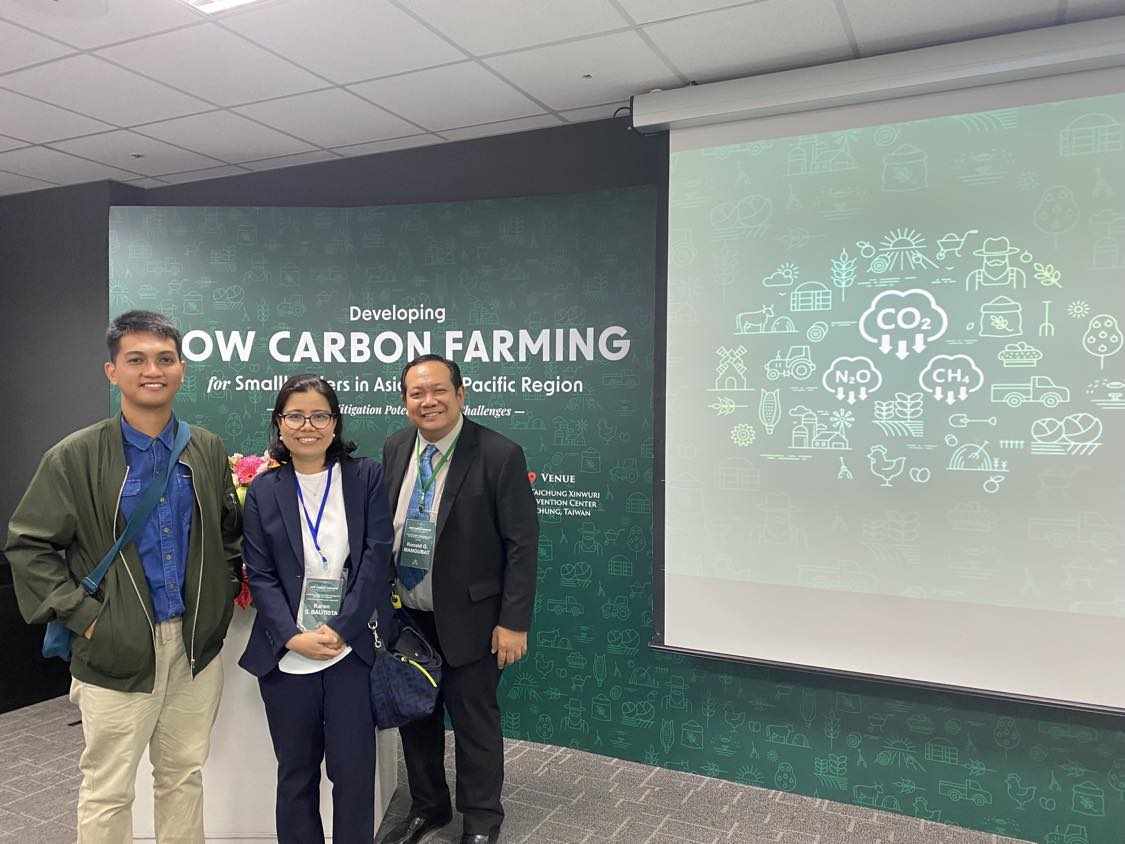 Dr. Bautista discussed a 20-minute presentation onthe "Assessment of Inherent SOC Sequestration Potential: A Key Step in the Recarbonization of Soils (RecSoil) in the Philippines" where she emphasized the significance of evaluation of inherent SOC sequestration potential and actual SOC sequestration levels as part of the benchmarking process and consequently in the selection of appropriate sustainable soil management measures. She also served as a Moderator of the Technical Session on Smart Agriculture toward Net Zero with the focus on Digital Solutions.
The two-day international conference served as an avenue for knowledge sharing on addressing the challenges of climate change on smallholder farmers. It is comprised of four key thematic topics, namely:
1) Reducing GHG emissions from crop fields and livestock;
2) Enhancing soil carbon sequestration;
3) Smart agriculture towards Net-Zero;
4) Panel Discussion – Strategies for encouraging farmer adoption of low-carbon
practices.
The joint Workshop was collaboratively organized by the FFTC, the National Agriculture and Food Research Organization (NARO) of Japan, and three Taiwan's Ministry of Agriculture's affiliated research organizations: Taiwan Agricultural Research Institute (TARI), Taiwan Livestock Research Institute (TLRI), and Tainan District Agricultural Research and Extension Station (TNDARES). The DA-BSWM as the Philippines' national focal agency on Global and Asian Soil Partnership (GSP and ASP) is privileged and committed to support the global initiatives and advocacies on the sustainable management of soil and water resources towards climate change mitigation and healthy food production system.