The DA – Bureau of Soils and Water Management (DA-BSWM) marked a significant milestone as it conducted a meaningful Tree Planting activity in NSWRRDC HillPEZ, Brgy. Cuyambay, Tanay, Rizal. The event, held on June 29, 2023, served a dual purpose by honoring the observance of 2023 Soil Conservation Month the DA-BSWM 72nd anniversary celebration. The esteemed presence of DA-BSWM Director Dr. Gina P. Nilo, Division and Center Chiefs, Administrative Unit Heads, and BSWM employees made the activity more significant.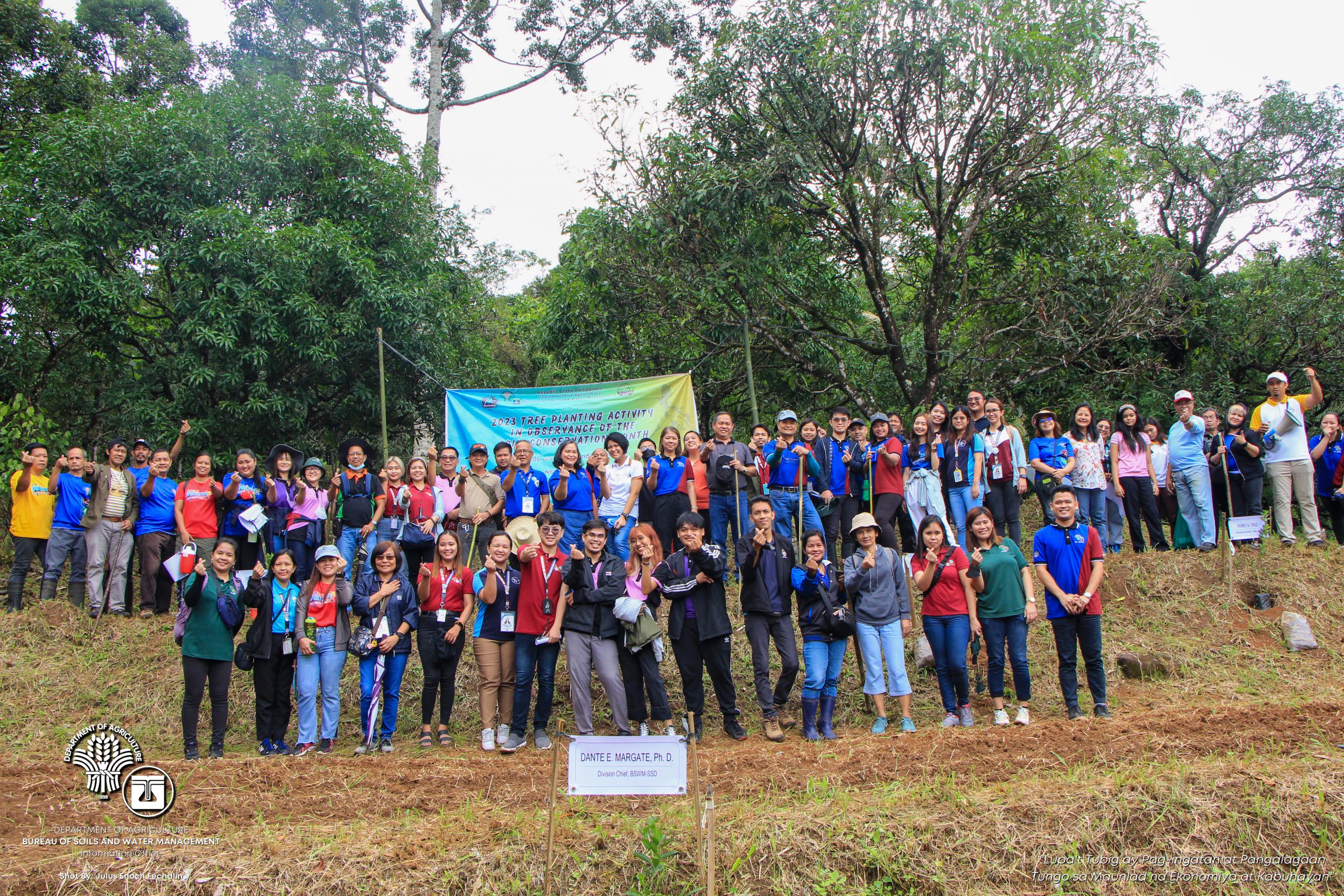 The Tree Planting activity with the theme of "Our lands, our rights. Land access to all." served as a noteworthy initiative to raise awareness about the importance of soil conservation and the vital role that the tree planting plays in the hilly lands. With Director Nilo's presence, the event gained prominence and offered a platform to underscore the interconnected and interrelated nature of tree planting in HillPEZ and its impact on soil health and land sustainability.
In her keynote speech, Director Nilo emphasized tree planting in hilly areas to mitigate erosion, preserve soil fertility, and ensure sustainable land use. She highlighted the integral relationship between trees and soil conservation, noting that trees provide essential ecosystem services such as reducing soil erosion, improving water retention, and enhancing soil structure.
"Tree planting is not merely an act of adding greenery to our surroundings; it is a strategic approach to safeguarding our hills, soil, and ultimately, our land resources. By planting trees in the HillPEZ areas, we contribute to the long-term preservation of our soil's quality, preventing erosion and degradation that can harm agriculture, water resources, and overall ecological balance," stated Director Nilo. She also stressed in her speech that the participants' commitments should extend beyond the act of planting, as it is equally vital to provide ongoing care and attentiveness to the planted trees.
This event served as a Call to Action, inspiring individuals and organizations to engage in similar tree-planting initiatives, especially during Soil Conservation Month. The DA-BSWM's event also encourages investing in tree planting efforts, as it is possible to create a positive ripple effect, promoting soil health, mitigating the impacts of climate change, and fostering resilient ecosystems for generations to come.
Furthermore, the Tree Planting activity also commemorated the 72nd anniversary of the DA-BSWM, a testament to its continued commitment to soil and water conservation, sustainable land management, and agricultural development.
#DA #BSWM