The DA-Bureau of Soils and Water Management (DA-BSWM) through the Soil Conservation and Management Division (SCMD) took significant strides in advancing the Manila Bay Rehabilitation (MBR) Project during its Annual Stakeholders Consultation Meeting on Integrated Upland Conservation Guided Farm (IUCGF) Technology Demonstration last November 8 to 10, 2023 at PCC Science City of Muñoz, Nueva Ecija.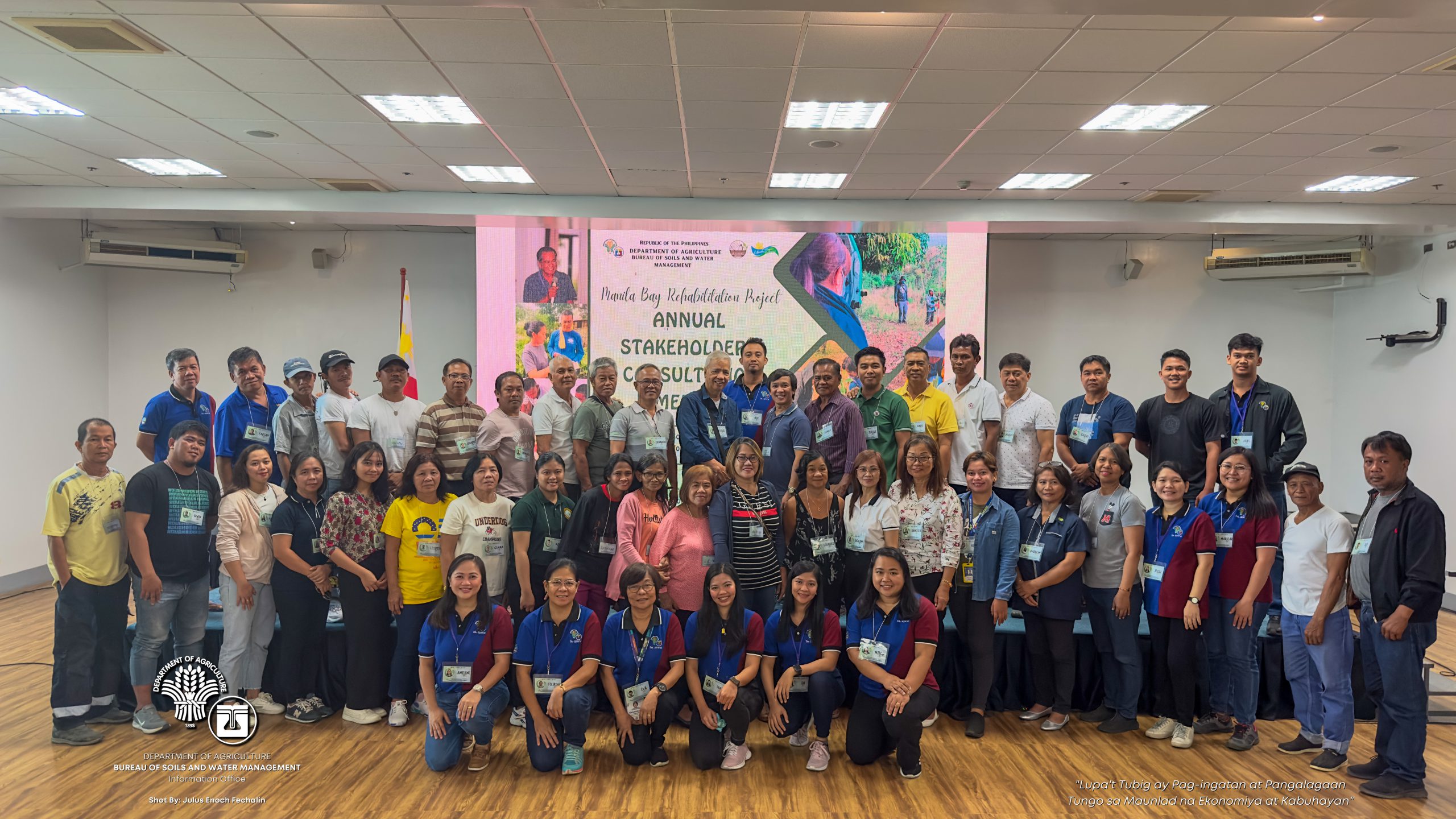 Aligned with the DA-BSWM's commitment to the Supreme Court's Writ of Mandamus, the MRB Project consultation meeting aimed to address soil erosion in uplands while contributing to the cleaning, rehabilitation, and preservation of Manila Bay. The objective is to restore the bay's water quality to meet the standards for contact recreation or the Class CB level.
The first day of the consultation meeting witnessed a warm welcome from DA-BSWM-SCMD Supervising Agriculturist and Project Focal Engr. Evangeline Dacumos. She emphasized the critical role of the stakeholders in this endeavor, particularly the Provincial and Local Government of Nueva Ecija, the Local Government Unit of Batan, and farmer-beneficiaries and cooperators. During her message, she emphasized the importance of this meeting in addressing soil erosion on uplands while restoring the Manila Bay health.
The meeting featured a presentation on the status of IUCGF Technology Demonstration Sites established in 2022 in Bataan and Nueva Ecija by SCMD's Technical Staff, including Ms. Jeziel Mae F. Catalan, Ms. Sharmaine Ann C. De Leon, and Ms. Lenieann M. Torres.
On day two, expressing gratitude for the active participation of stakeholders, SCMD Chief Engr. Eduardo C. Alberto highlighted that the event was not just a reporting venue but also a valuable platform for learning. He emphasized the importance of knowledge sharing to address emerging farm issues and learn practical techniques from fellow farmers.
Expert presentations by Bureau of Plant Industry (BPI) Agriculturist Mr. Rohelio G. Custodio and Ms. Trenesie M. Lorenzo from the Agricultural Training Institute (ATI) covered Plant Propagation Techniques, Practical Application, Propagation and Cultural Management of Bananas, and Post-harvest Processing and Handling Techniques for various crops. These insights were crucial for the farmer-beneficiaries seeking to enhance their cultivation practices and food production.
Additionally, SCMD Engr. Amelene C. Derita reported the consolidated challenges and actions of the farmers for CY 2024, including planned activities and potential site identification. While SCMD Engr. Michelle A. Roque synthesized the overall training and outlined the steps for moving forward for the MBR Project.
The meeting concluded with a field visit to the Buted Water Impounding Irrigation Association, led by President Joe A. Pangalinan, showcasing the cooperative's dedicated efforts in preserving a small-scale water system for the past 28 years.
The success of the Annual Stakeholders Consultation Meeting signifies a collaborative step forward in realizing the objectives of the Manila Bay Rehabilitation Project, demonstrating the DA-BSWM's commitment to environmental conservation and sustainable agriculture practices.
#DA #BSWM #SCMD #ManilaBayRehabilitationProject