A team from the DA-Bureau of Soils and Water Management (DA-BSWM) Laboratory Services Division (LSD) composed of Ms. Aurora Manalang, Supervising Agriculturist; Ms. Jamie Ann Tumolva, Agriculturist II; Ms. Shaira Granada, Agriculturist II; Ms. Ann Fatima Benjamin, Agriculturist II; and from Compost Production  Implementation Team (CPIT) Mr. Rig Limlwel Caiyod Project Assistant IV conducted a site visit of the Composting Facility for Biodegradable Wastes (CFBW) in the Municipality of Teresa, Rizal last October 9-10, 2023.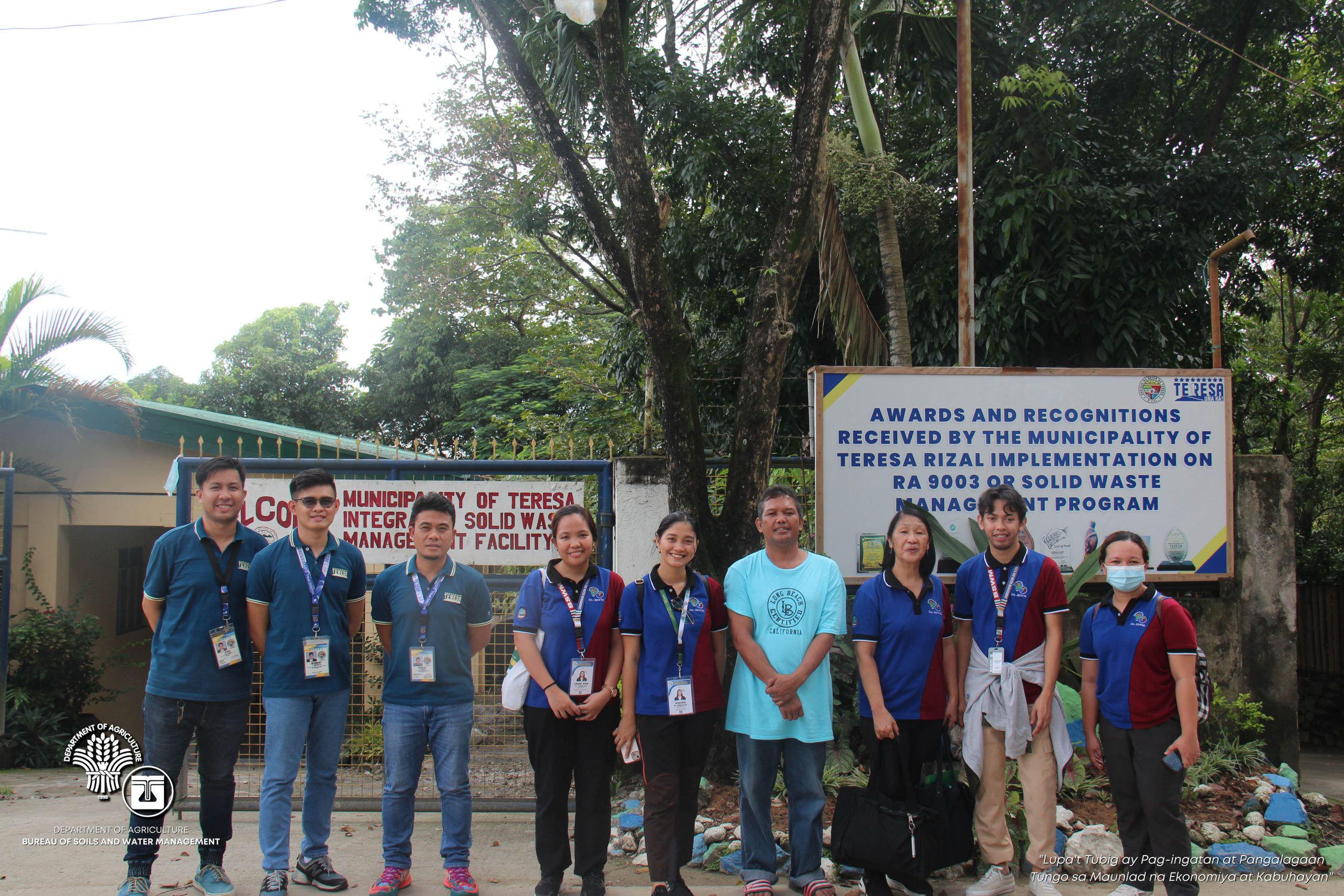 This activity is integral in seeing the actual process of Compost Production in preparation for drafting a research proposal on utilizing compost for Biofertilizer Production. During the courtesy visit, the Head of Municipal Environmental and Natural Resources Office (MENRO) Ms. Cherry Rose Eloise Desacula, provided information about the integrated solid waste management practice of Teresa, Rizal.
Material Recovery Facility Supervisor Mr. Efren Audal presented the different methods of how they carry out solid waste management in the Municipality of Teresa Integrated Solid Waste Management Facility. The facility produces different types of products made from wastes such as concrete product residual waste, pillows, coco fiber and residual products and especially the Compost fertilizer from the Compost Facility for Biodegradable Wastes (CFBW). They demonstrated how they use kitchen and agricultural wastes coming from different barangays of Teresa, Rizal as a substrate for making a Compost Fertilizer.
Municipal Agriculturist Ms. Izy San Jose stated that "The Municipality of Teresa Rizal received an Award and Recognition on the Implementation of RA 9003 or Solid Waste Management Program. Solid Waste Management is one of the advocates of our Mayor Rodel Dela Cruz and with the help of the Bureau of Soils and Water Management giving a unit of CFBW was a big help for the strict utilization and implementation of Integrated Solid Waste Management in our Municipality."
#DABSWMCompostProduction