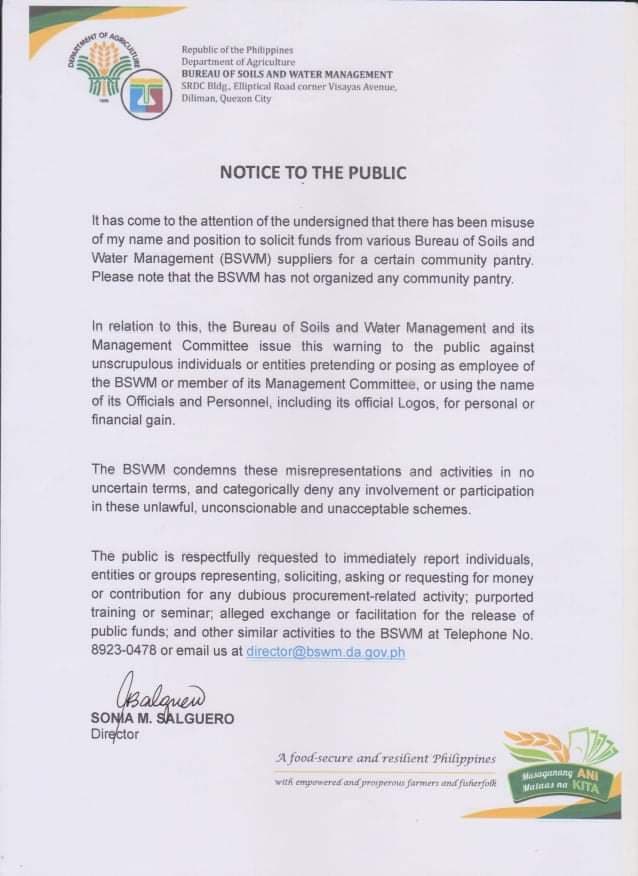 It has come to the attention of the undersigned that there has been misuse of my name and position to solicit funds from various Bureau of Soils and Water Management (BSWM) suppliers for a certain community pantry. Please note that the BSWM has not organized any community pantry.
In relation to this, the Bureau of Soils and Water Management and its Management Committee issue this warning to the public against unscrupulous individuals or entities pretending or posing as employee of the BSWM or member of its Management Committee, or using the name of its Officials and Personnel, including its official Logos, for personal or financial gain.
The BSWM condemns these misrepresentations and activities in no uncertain terms, and categorically deny any involvement or participation in these unlawful, unconscionable and unacceptable schemes.
The public is respectfully requested to immediately report individuals, entities or groups representing, soliciting, asking or requesting for money or contribution for any dubious procurement-related activity; purported training or seminar; alleged exchange or facilitation for the release of public funds; and other similar activities to the BSWM at Telephone No. 8923-0478 or email us at director@bswm.da.gov.ph.
(Originally signed)
SONIA M. SALGUERO
Director