The DA-Bureau of Soils and Water Management (DA-BSWM), through the Soil Survey Division (SSD) and Agricultural Land Management and Evaluation Division (ALMED), took a significant stride towards advancing agricultural practices by hosting a Technical Inception Briefing (TIB) in the Province of Aurora last August 10, 2023 at the Provincial Agriculture Conference Hall, ATC Compound, Sitio Detan, Brgy. Calabuanan, Baler, Aurora. The event is part of the implementation of the National Soil Health Program (NSHP), focusing on Updating Thematic Maps for Soil Reference Siters (SRS) and Soil Monitoring Sites (SMS).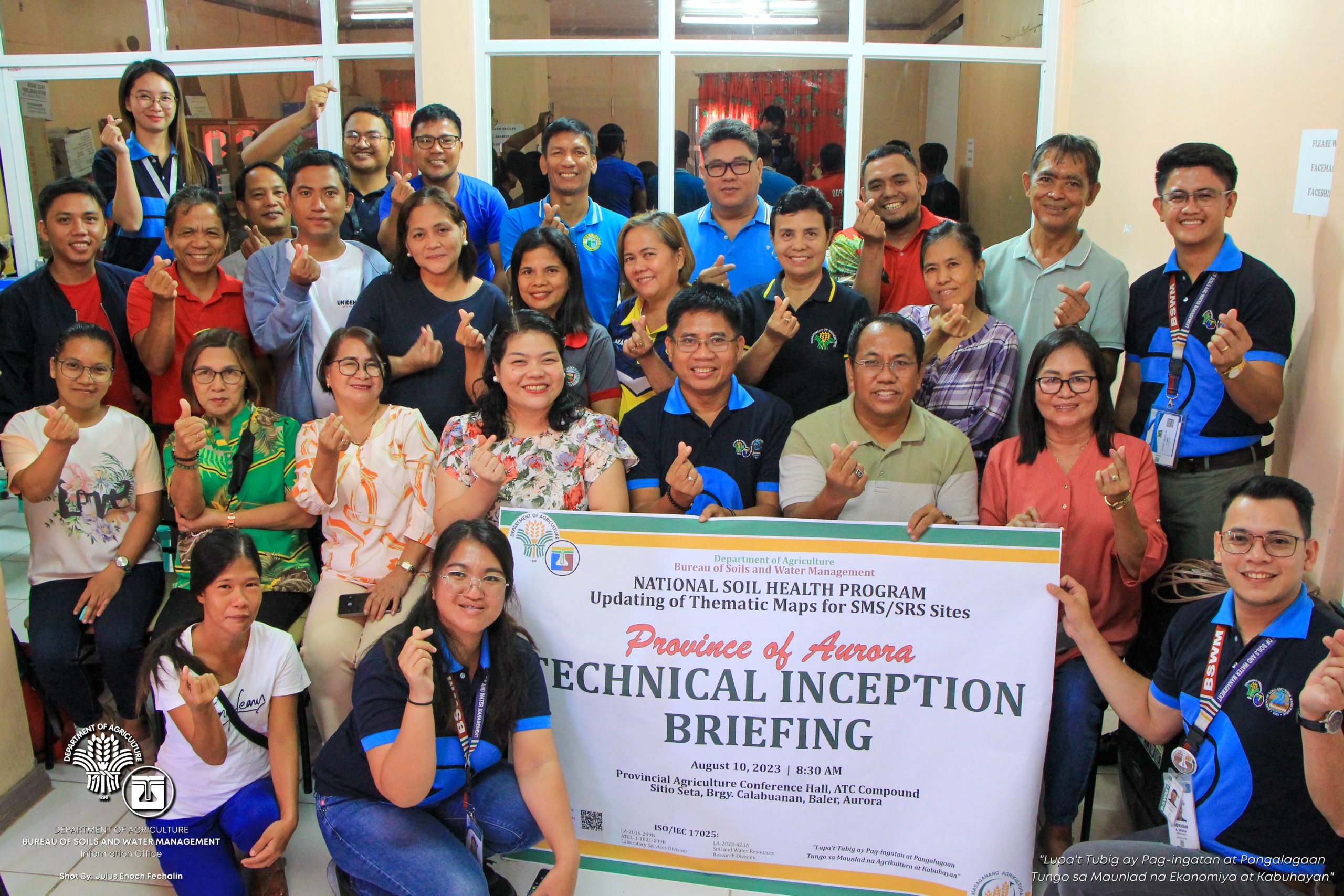 Led by Supervising Agriculturist and the Aurora Project Focal of SSD, Mr. Marcelo P. Dayo, the Technical Inception Briefing provided a comprehensive overview of the project's objectives and methodologies. Mr. Dayo presented the Project Briefer and Soils Survey Protocols, shedding light on the intricacies of the upcoming BSWM's soil health assessment.
The event featured several key presentations, including an informative discussion by Ms. Kristel M. Bagua, Agriculturist II of SSD, who elaborated on the Sampling Sites per Municipality. Furthermore, Mr. Norman A. Apura, Agriculturist II of SSD, discussed the crucial Logistical Arrangements, Fieldwork Schedule, and Team composition, highlighting the coordinated efforts required for successful Project execution.
Mr. Valerio N. Ablaza, Agriculturist II of the ALMED, discussed the vital subject of Updating Thematic Maps, mainly focusing on Local Municipality Units and the Agro-Socio Economic Survey. These components are integral to a comprehensive understanding of soil health in the agricultural landscape.
The Aurora Provincial Agriculturist, Mr. Arnold B. Novicion, closed the Briefing by emphasizing the significance of the BSWM's initiative and underscoring the Project's practical implications and potential benefits for every farmer of Aurora. Also, the Municipal Agriculturists from across Aurora Province attended the Technical Inception Briefing and committed their full support to the Project's implementation.
The Technical Inception Briefing in Aurora marks a remarkable step forward for the National Soil Health Program and reinforces soil health's importance towards a sustainable and productive agriculture.
#DA #BSWM #NSHP